CoboTend
Developing a Cobotics Centre of Excellence with Darlington College
Darlington College is a leading further education college in North East England, providing a diverse range of courses that are transforming the way students learn and work. They have established strong relationships with local businesses, helping to upskill their workforce and provide them with the skills needed for today's world.
Cobots Online worked alongside Darlington College to develop a cobotics centre of excellence in the region, providing the next generation of workers with the knowledge and expertise needed to apply collaborative robot technology.
"The team of curriculum managers always have to look forward to see what is going to happen in the next five years so we can invest in the right technology and develop relevant courses for students." - Carole Todd, Deputy Principal of Darlington College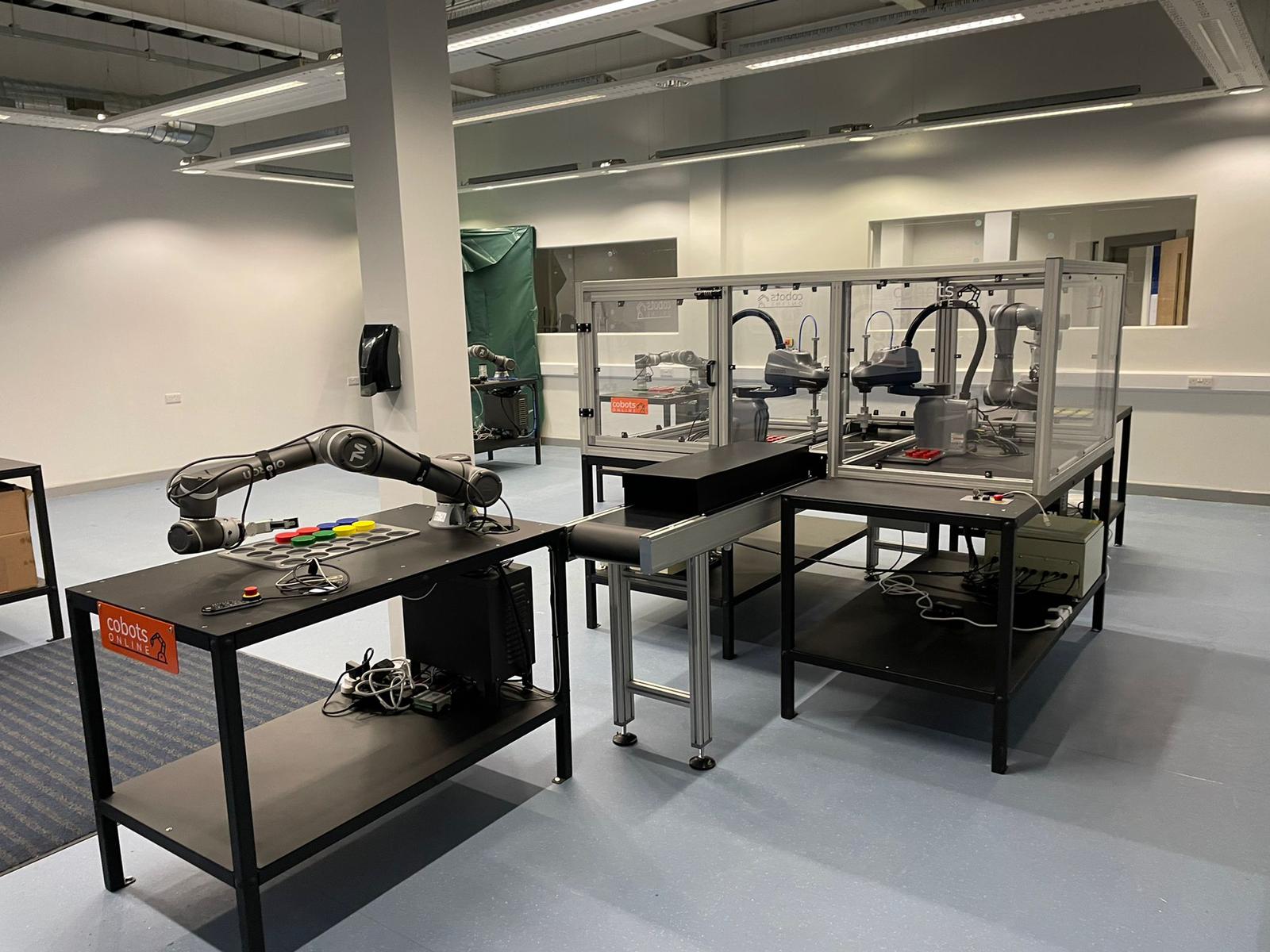 A Workforce Skilled for the Future
Following discussions with several companies in recent years, Darlington College found that many people in the North East were travelling further afield for robotics training. They saw that the region was losing a valuable, skilled workforce to areas of the country that provided this industry specific training, as well as companies struggling to hire and retain skilled workers.
"With the fast-changing nature of the world, driven by rapid developments in technology, we make sure we review our curriculum every year to ensure that it is relevant to the needs of our students and meets employers demands, which is vital for this country's productivity." - Kate Roe, Principal of Darlington College.
Darlington College set out to develop a robotics and automation manufacturing lab aimed at meeting the skills gap for local and national companies, caused by an ageing engineering workforce and the rapid onset of new technologies based around robotic automation.
Strategic Development Fund
Darlington College secured £2.75m of funding following a successful bid from the Strategic Development Fund, which came on the heels of a £600,000 Social Development Fund grant. The funding allowed the college to develop a robotics automation training facility, electric vehicle workshop, technical support lab and a business hub for professional qualifications.
The Strategic Development Fund, part of the Government's Skills Accelerator initiative, provides capital and programme funding to enable areas across England to reshape their teaching and training provisions. The funding allows facilities to be updated to better meet the needs of the local economy and employers.
"We have moved into robotics and virtual reality capability, thanks to the Strategic Development Fund, and there isn't another college in the North East with our facilities." - Kate Roe, Principal of Darlington College
In December 2021, Cobots Online won the tender to develop an immersive learning facility, providing high-tech training through the provision of a specialist training environment housing industry specification robotics equipment. The new robotics lab, which would see the inclusion of an automated manufacturing production line, was to provide real working training that showed cobots working in an industry standard robotics production facility.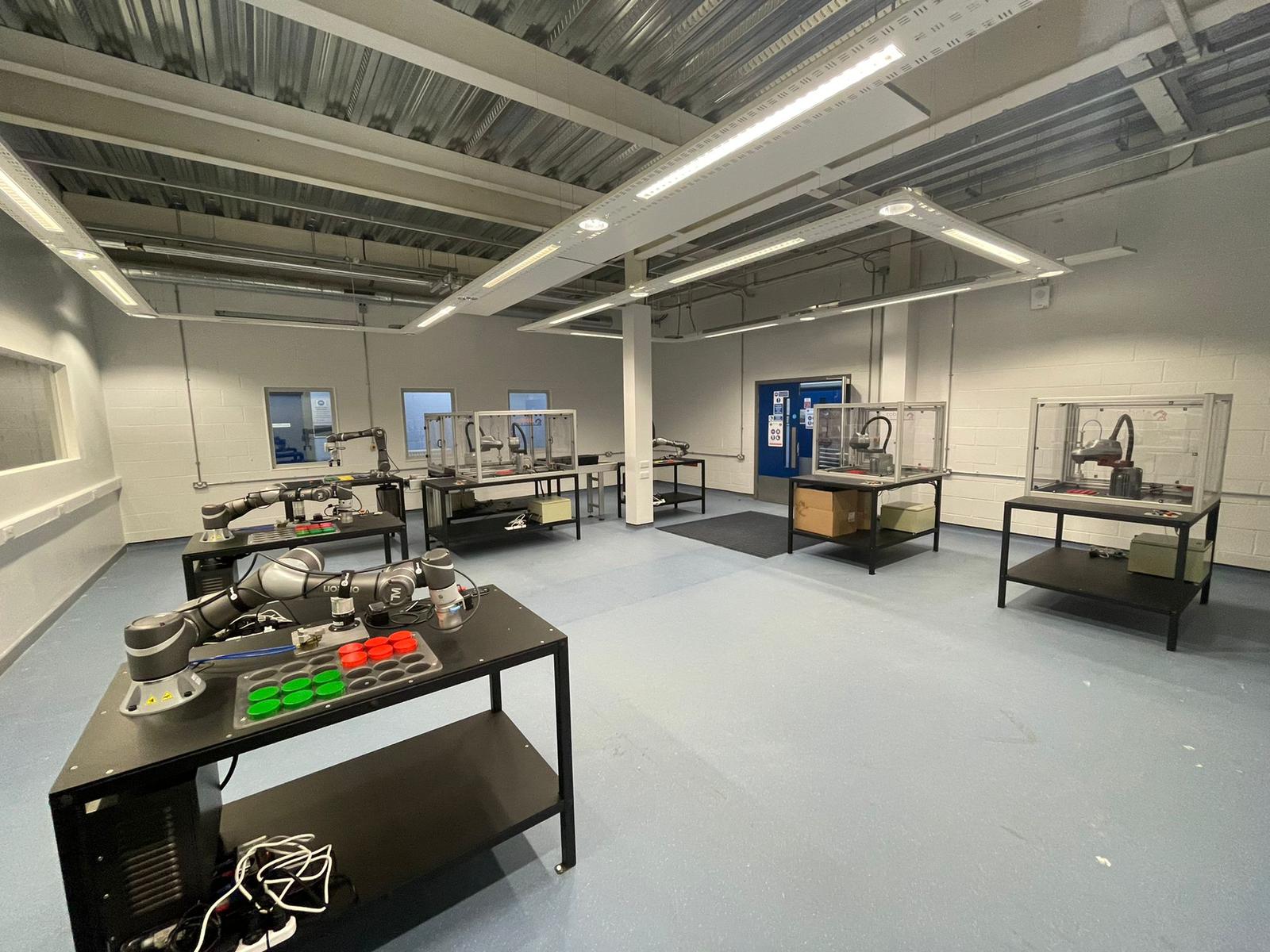 "Cobots Online worked with us on a personal level and were able to articulate details in an easy-to-understand way, bridging the gap between education and industry successfully. Having their own apprentices also became very helpful as they could utilise their own employees to understand and better-fit items to the curriculum." - Alan Jones, Curriculum Manager for Engineering, Digital, Automotive & the Art| SDF Project Manager
Manufacturers told Alan Jones they were pleased that Darlington College were working with Cobots Online, relaying they were well informed, industry leaders who are one of the main suppliers providing companies like them with collaborative robots and automated solutions.
Development of the Robotics and Automation Manufacturing Lab
Cobots Online developed the Robotics and Automation Manufacturing Lab between December 2021 and March 2022, providing the facilities to train the next generation of workers on how to install, adapt, programme, maintain and repair cobots.
"Industry is moving on and cobots will allow the UK to compete on a global stage as they reduce the cost of labour. This technology has huge ramifications on the workforce. Cobots take away laborious tasks and open up opportunities for the workforce to be involved in more creative, skilled and energising roles, while also addressing labour shortages." - Mark Thompson, Business Development Manager at Cobots Online
Immersive Learning for Future Generations
Prior to the development of the robotics lab, Darlington College like many other educational institutions, utilised LEGO robots for teaching. While this could focus on certain elements of robotics, such as coding and programming, it lacked the real world applications that students would be facing when entering the workforce.
Cobots Online's work on the Robotics and Automation Manufacturing Lab provided industry-standard robots used in everyday production tasks. This high level of expertise has been transformational for teaching engineering students at Darlington College studying T Level qualifications, apprenticeships and HE qualifications. Alan Jones remarked that with Cobots Online being from the real world of manufacturing, they understood the needs of companies and the training required to support the next generation of workers.
"The Robotics and Automation Manufacturing Lab is great for our apprenticeship ambitions and will provide people with a new stream of learning, as well as offering our teaching staff an experience that is cutting edge and innovative." - Paul Clark, Business Development Advisor at Darlington College.
The development of this new robotics lab is set to provide the North East economy with a workforce that is fit for the needs of modern industry, helping to produce highly skilled cobotic automation engineers and solve labour shortages.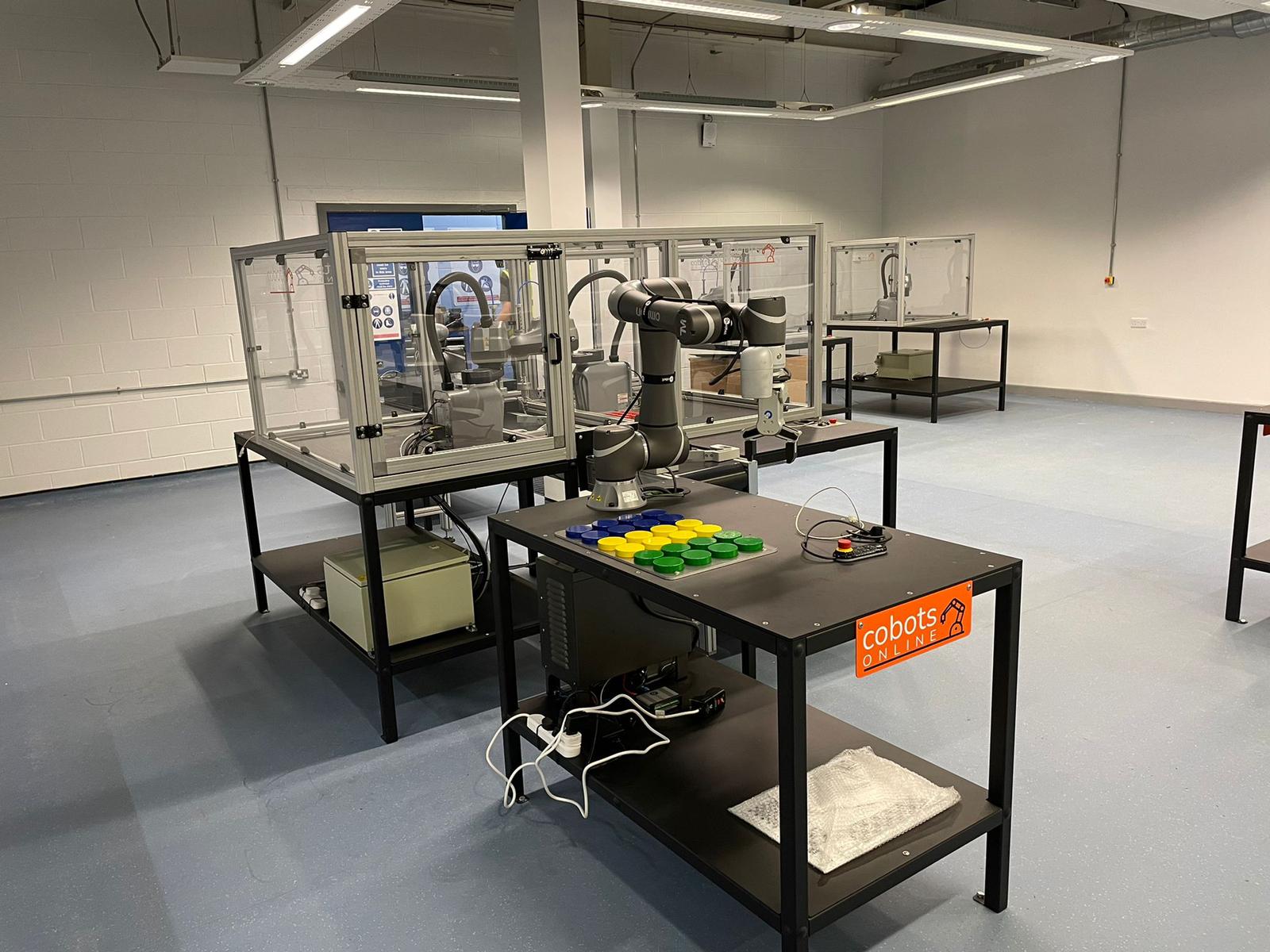 Further Comments from Darlington College
"Working with Cobots Online I found a positive collaboration between education and industry which proved to be instrumental in our procurement of industrial-standard robotics and training to support the students here at Darlington College.

Cobots Online made it easy for us to fully understand the manufacturing needs of local industry by using their range of customers as examples, which we could then use to target bespoke training. They listened to our needs and ensured we could deliver advanced manufacturing techniques within our College so as to improve the skills of local workforces, both for current employees of SMEs and to the young engineers of tomorrow.

I found Cobots Online to be approachable, direct and honest. This approach allowed us to meet our deadlines, within budget and to a high standard. Our expectations were fully met, with added value throughout the project timeline. Cobots Online has supported local skills development and we would not hesitate to recommend them. Hopefully we can work together again on future projects." - Alan Jones, Curriculum Manager for Engineering, Digital, Automotive & the Arts | SDF Project Manager