Making Automation Accessible for SMEs with Cobots
Smart manufacturing is becoming imperative for the survival and success of small and medium-sized enterprises. With labour shortages, tight margins, economic uncertainty and inflation threatening every industry, gaining a competitive edge against competitors has never been more important.
Cobots offer SMEs a number of advantages, from increased productivity to improved safety and enhanced agility. Without breaking the bank or the need for highly skilled engineers, cobots offer affordable automation solutions to improve production and positioning in the market.
Straightforward deployment and programming
Industrial robots can take days or even weeks to set up and integrate, leading to disruption and unaffordable downtime for SMEs. Compared to their industrial counterparts, collaborative robots are simple to deploy and can be working within just a few hours.
One of the most attractive features for SMEs is their ease of usability. Cobots can be programmed through a mix of hand guidance functions and intuitive application interfaces. With user-friendly software, cobots are accessible to everyone to programme, regardless of robotics experience, eliminating the reliance on integrators and engineers. Existing employees can be upskilled to undertake programming roles, reducing the time needed to implement new production processes and removing the requirement of costly specialists.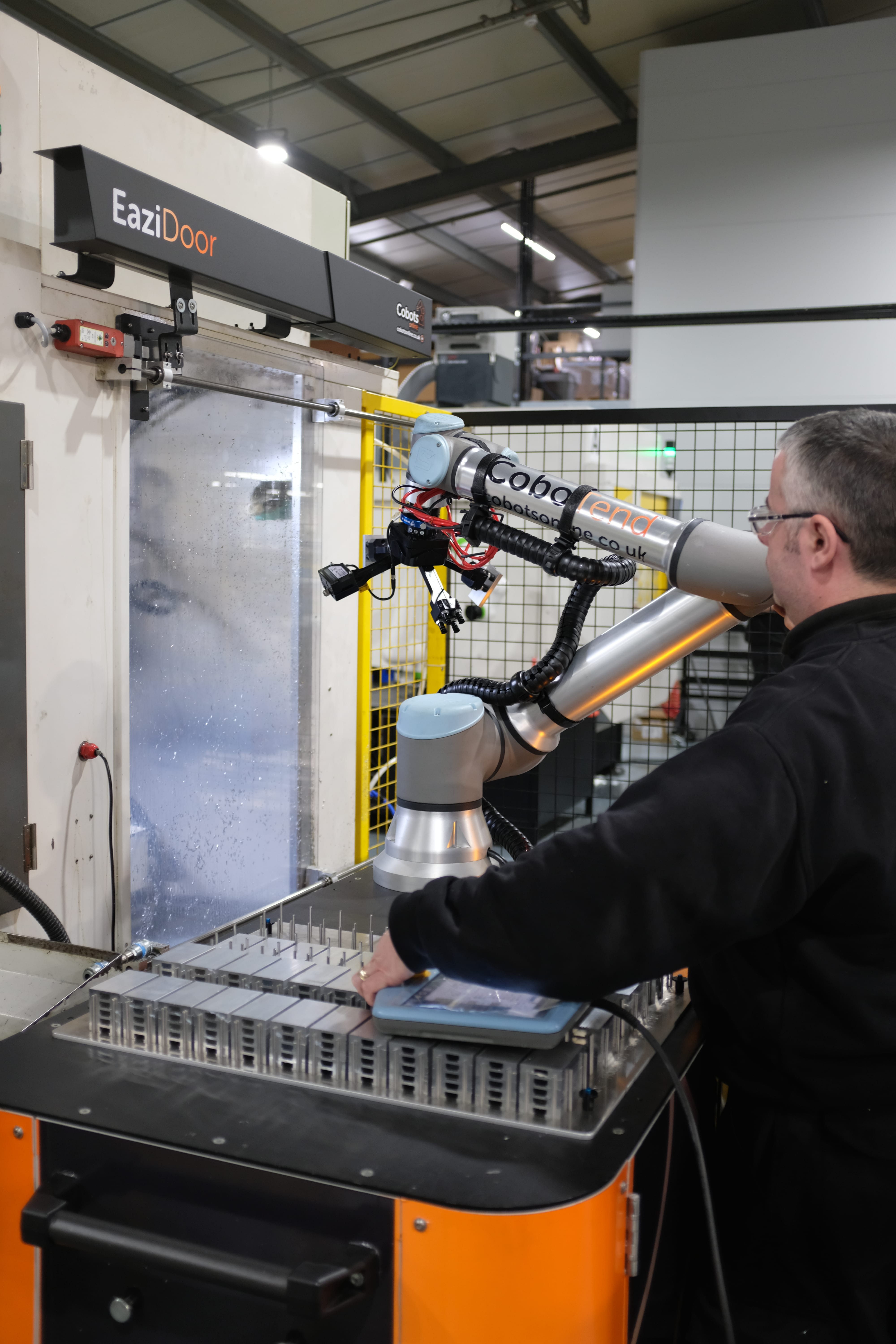 Thanks to minimal integration time and ease of programming, SMEs can experience a quick return on investment. From the minute a cobot starts working, it improves productivity and product quality, making cobot automation both a time and cost effective solution.
SME friendly footprint
For many SMEs, space on the factory floor is at a premium. Industrial robots tend to have a large footprint, which is increased by the necessary safety guarding and fencing that is required to keep workers safe. With many companies steering towards high-mix low-volume production, it is not feasible for SMEs to build their production around a single robot with a large footprint. It is unrealistic for a space to be redesigned and reprogrammed every time a new product is added to production.
Cobots in comparison have a relatively small footprint, can be mounted in any orientation and even be made mobile. CoboTend, the mobile cobot unit from Cobots Online, allows a cobot to be moved quickly and easily across the factory floor. It is granting SMEs the agility to automate even small batch runs and cater for frequent line changeovers.
Collaborative workspaces
Speed and force-limiting safety features allow cobots to work closely alongside workers without the needs for cumbersome fencing. They are allowing companies to take a more human-centric approach to manufacturing, being specifically designed to supplement and enhance employees' roles.
Research has shown that through human-robot collaboration, manufacturing processes are faster, more efficient, and more cost-effective than either humans or robots working alone. Being able to automate processes is also allowing SMEs struggling with labour shortages to continue fulfilling orders and increasing production.
Respond to changing demands
Inefficient processes can present a big risk to profitability for SMEs. Combining a small footprint and mobility, cobots are available to be deployed and redeployed to a wide range of applications, giving manufacturers the ability to respond quickly to market changes.
From machine trending to material handling, pick and place to palletising, cobots provide SMEs with manufacturing agility to quickly respond to changing customer demands.
Removing financial barriers for faster ROI
Industrial robots are expensive to purchase, while also being costly to maintain and operate. Cobots are much less expensive than their counterparts, and are easier to maintain using in-house resources, reducing any ongoing operational costs.
Implementing a cobot means ROI can be measured in months rather than years, while simultaneously boosting profits through increased production and productivity. Cobots are making automation affordable for SMES, from small-batch production runs and mixed product assembly.
Accessible automation with Cobots Online
Cobots are making automation easier than ever before for SMEs across every industry.
Selecting the right cobot solution is the first step in unlocking the potential of automation for SMEs. The Cobots Online team are ready to help you increase your agility, productivity and competitiveness in the market with collaborative automation. Contact our knowledgeable experts today to discuss your requirements.