CoboTend
8 Reasons to Invest in Cobot Automation
Unlike traditional industrial robots which need to be isolated from their operators and usually hidden behind metal cages, cobots are specifically designed to work alongside their human counterparts.
Cobot automation also offers a number of safety options, including force and power limiting sensors, ensuring cobots are safe to collaborate with in a manufacturing environment. When cobot automation is utilised in production and manufacturing processes, the business will benefit from shorter production times, increased productivity, lower defect rate and increased staff morale as dull, repetitive jobs are taken away from them leaving them to work on more interesting, dextrous tasks.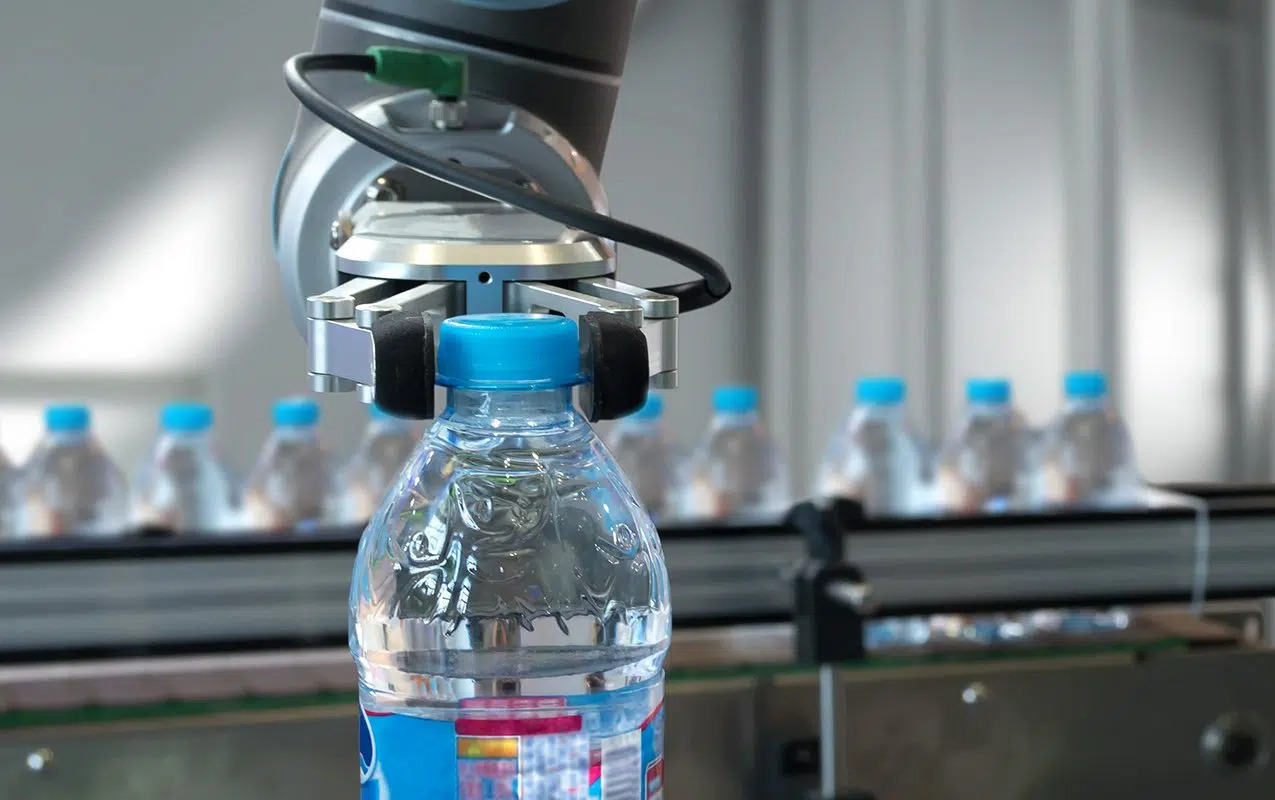 In any manufacturing business, productivity is the key to success, and the more you can increase your productivity, the more profitable your business becomes. The UK is lagging far behind its European counterparts in the uptake of cobot based automation and with increased competition for contracts and a reduced labour pool to recruit, now is the right time to place industrial cobots into your manufacturing processes.
Here are eight reasons you should consider implementing cobot automation in your business right now.
1. Cobot automation is affordable
With interest rates at an all time low, you can spread the cost of your cobot over 12-36 months and it will cost you less than the hourly rate of an additional team member.
2. Cobot automation increases your productivity
Cobots don't get bored or distracted when carrying out repetitive tasks, this means you get a consistent output over a long period of time. Defect rates are reduced, almost to zero due to their consistent accuracy.
3. Rapid Payback
Cobot automation proves time and time again that it can pay for itself from day one. Our experience has shown that it is possible to be cash positive within a matter of months, giving you peace of mind and generating further profit to reinvest in additional cobot automation.
4. Cobot automation can be deployed in multiple applications
Cobot automation is entirely flexible and industrial cobots can be quickly and easily moved from one machine to another, giving you the flexibility to automate production tasks that benefit the most and allowing your operators to conduct higher value work.
Cobots Online offers a range of mobile base units specifically developed to offer quick movement and setup between different machines and lines. Industrial cobots are capable of cnc and manual machine tending, assembly tasks, packaging, pick and place, palletising, welding, grinding and sanding.
5. Consistent Quality & Throughput
Cobot automation doesn't tire like humans do which makes it especially suited to monotonous tasks where cycle times can be maintained over the course of a long period. Their force and torque sensing means that accurate forces can be applied to the cycle each and every time to achieve a consistent result.
6. Improved employee morale and job satisfaction
A common misconception is that workers will be replaced by machines. This is far from true with most businesses still operating on a high mix/low volume production model. The need for humans in the production process is key.
As we enter the fourth industrial revolution, smart manufacturing is being driven by the digitisation of processes, placing the human workforce alongside industrial cobots, with no need to reduce headcount. Instead of replacing workers, the operator is spared from repetitive, boring tasks and is freed up to concentrate on more complex tasks, improving their day-to-day employee experience, making them feel more valued and creating a safer and more enjoyable workplace.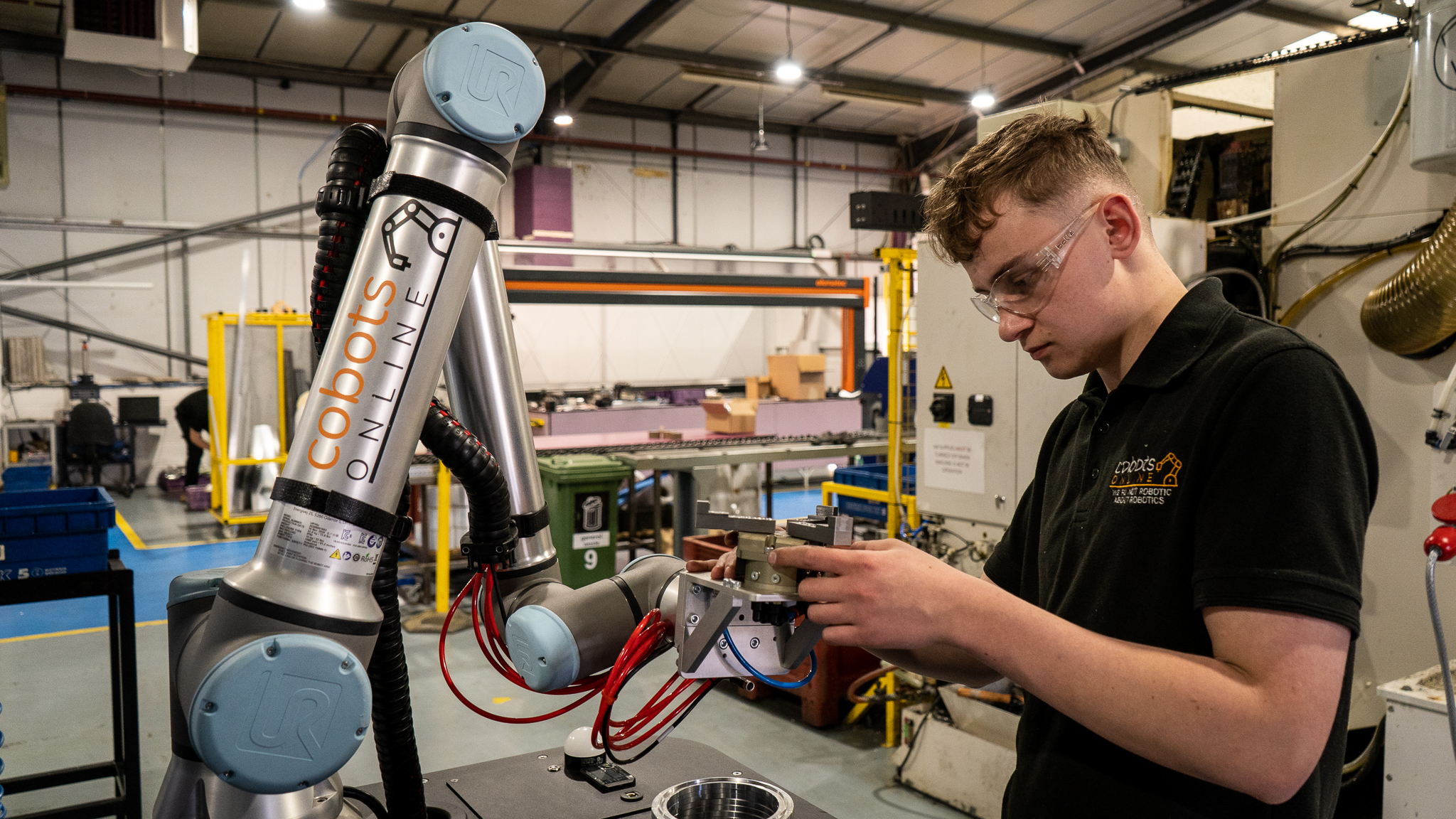 7. Ease of Integration
Cobot automation can be set up quickly and easily, especially for pick and place operations. However, in our experience, most end users want to integrate the cobot with other machinery or production lines.
The quickest and safest method to get up and running quickly and generate payback is to work with an experienced integrator. While it is possible to go down the DIY route, an experienced integrator will save you time and money by getting the cell up and running quickly and more importantly, safely.
With more and more safety standards being introduced, it is vital that businesses comply with these standards and although cobots are safer than industrial robots, they can cause injury if incorrectly installed. Cobots Online can quickly understand your needs and propose the best solution to cover both the health and safety needs of the project along with the results you need to justify the project.
8. The age of cobot automation is now
The economic crisis brought about by Covid-19 has uncovered many current vulnerabilities in supply chain structures and management. The vulnerabilities with the biggest impact are a lack of responsiveness and adaptability. Production facilities were unable to scale up and in most instances, forced to temporarily close due to the human interactions and the risks posed by the pandemic.
Despite all the references to Industry 4.0, automation is not widely used in manufacturing today and it's estimated that less than 3% of global manufacturing is highly automated. Obviously, the vast majority of manufacturers are still heavily reliant on the human workforce to produce goods & services.
The question is not 'will there be a further disruption to manufacturing?' but 'when will this disruption occur?'. The question you need to ask yourself is, how well prepared is my business to scale up with the current labour shortages and how will my business continue to produce if a similar disruption happens again?
The age of cobot automation is now. Automate your processes before your competitors do.